16 November 2019
Lads and ladies spin around, see Hunique's stars dance tonight'
Hunique Dance Ensemble, a London based Hungarian folk dance group, is celebrating it's 10th anniversary on 16 November 2019 with a spectacular show performance at Shaw Theatre in Central London.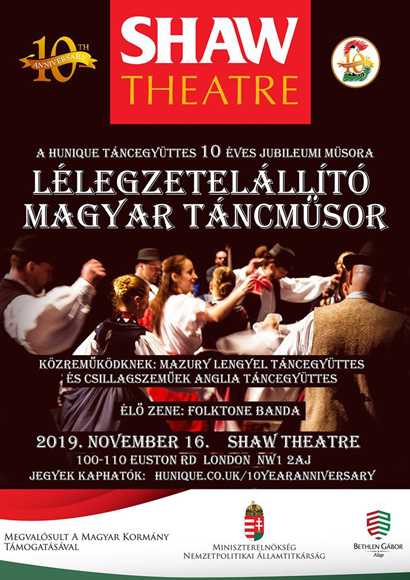 The number of members have increased throughout the years which have enabled the ensemble to extend the range of activities, events and their wardrobe of traditional costumes in order to promote and preserve Hungarian traditions, values and customs.
Hunique Dance is inviting you to join of their 10th anniversary. You will be entered into the vibrant, energetic and exciting world of Hungarian dancing brought to life within the walls of the glorious setting of the Shaw Theatre. The duration of the show will be approximately two hours with an interval inbetween.
Come along, be part of the celebration and enjoy the virtuoso dancers dynamic performance!
The entertainment and Hungarian virtuoso-filled spiritis guaranteed!
Special guest performers:
Mazury Dance Company – Polish ensemble
Csillagszeműek Anglia – Hungarian ensemble
Live music on the show by Folktone Band
Tickets are now on sale.
Hunique is looking forward to seeing you on 16th November 2019 at 6pm!
Purchase your tickets to enter into a world of vibrant, virtuoso and exciting music & dances!
Find event on our website:
For more information about Hunique Dance please click: